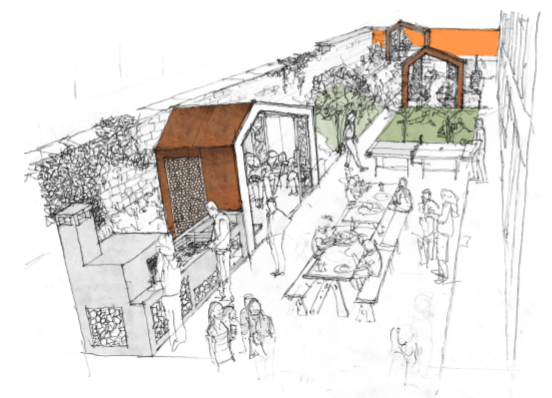 Our Haven
Now that the refurbishment of our lovely building is complete it's time to turn our attention to our outdoor space.
The residents have worked alongside staff from Arup to develop a design that incorporates three individual areas, creating opportunities for a variety of activities.  Each area will feature a unique shelter so that the garden can be appreciated whatever the weather.  The residents were keen to place their stamp on the garden and therefore an art installation designed by them will also be incorporated.
Gardening can be very therapeutic with both physical and mental health benefits, the layout will also encourage people to connect with others, reducing feelings of isolation. As well as offering a safe space for our residents to relax in we also envisage that the space will be used to facilitate training in gardening skills, cookery, health & wellbeing.
We are looking for sponsors/donations to help us achieve this ambitious project so if you feel you are able to help, please do get in touch.